My Blog
Posts for: October, 2017
By Image Dental
October 27, 2017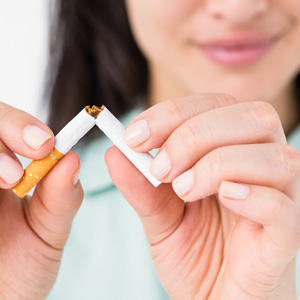 If you're considering a dental implant as a replacement for a lost tooth, you're looking at a restoration method with an amazing 95% success rate after ten years. But that being said there's still a risk, albeit quite low, the implant might fail.
And if you smoke, the risk is slightly higher. In a recent study of implant patients, twice as many of the failures occurred in smokers compared to non-smokers. If you're a smoker, you can increase your chances of a successful outcome if you quit the habit.
Nicotine, a chemical within tobacco, is the primary cause for this higher risk. Besides its effect on the pleasure centers of the brain, nicotine also restricts smaller blood vessels that are abundant in the mouth and skin, causing less blood flow. As a result, the mouth doesn't have as many antibodies and other substances available to fight infection and help traumatized tissues heal.
Because of this, as well as reduced saliva flow due to the habit, smokers have an increased risk of dental disease and are slower to respond to treatment. This can be especially problematic if the gum tissues around an implant become infected, which could lead to a catastrophic failure. Slower healing also impacts the post-surgery period when bone cells in the jaw are growing and adhering to the implant surface, forming a stronger bond.
To avoid these potential risks you should stop smoking before you undergo implant surgery. If you can't completely kick the habit, you should at least stop a week before surgery and for two weeks after. It's also critical that you practice good oral hygiene — both brushing and flossing — to minimize the occurrence of dental disease and see us for regular checkups and maintenance appointments.
Taking these steps will greatly increase your chances of being in the vast majority of people who continue to enjoy success with their implants for many years.
If you would like more information on the impact of smoking on dental health, please contact us or schedule an appointment for a consultation. You can also learn more about this topic by reading the Dear Doctor magazine article "Dental Implants & Smoking."
By Image Dental
October 12, 2017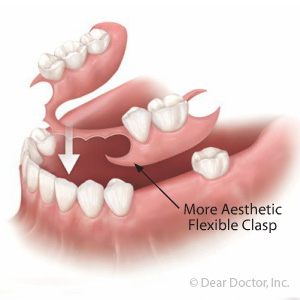 If you've lost some teeth you may eventually want to replace them with dental implants. Implants by far are the restoration of choice due to their life-likeness and durability. But those advantages don't come cheaply — implants can be expensive especially for multiple teeth.
If you're forced to wait financially for implants, you still have other intermediary options like a removable partial denture (RPD). The conventional RPD has a rigid acrylic base colored to resemble gum tissue supported by a metal frame with attached prosthetic (false) teeth at the missing teeth locations. They're held secure in the mouth through metal clasps that fit over the remaining teeth.
But these conventional RPDs can sometimes be uncomfortable to wear and don't always cover the bottom of the gum completely. If this is a concern, you might consider an alternative: flexible RPDs. The base of this RPD is made of a form of flexible nylon rather than acrylic plastic. They're much more lightweight but still fit securely in the mouth with thin plastic extensions rather than metal clasps. The base can also be more easily formed to cover areas where gum tissue may have receded.
While flexible RPDs hold up better to wear and tear than their conventional counterparts, they must still be maintained like any other appliance. They can accumulate plaque (bacterial biofilm) responsible for tooth decay and periodontal (gum) disease, so daily thorough cleaning is a must. And if there fit becomes loose they can be more difficult to reline or repair than other types of dentures.
They also share a common weakness with other dentures — they can't prevent and may even stimulate bone loss. As bone ages, old cells dissolve and new ones form to take their place. As we eat and chew our teeth transmit the forces generated through the teeth to the bone to stimulate it to grow. RPDs and other dentures can't transmit this stimulus, so the bone replaces much slower to the point that the bone volume can diminish.
That's why it's best to consider any RPD as a temporary solution until you can obtain an implant for a more permanent and bone-friendly option. In the meantime, though, an RPD can provide you with a great solution for both form and function for missing teeth.
If you would like more information on RPD choices, please contact us or schedule an appointment for a consultation. You can also learn more about this topic by reading the Dear Doctor magazine article "Flexible Partial Dentures: An Aesthetic Way to Replace Teeth Temporarily."